Q: I want to make sure I'm covered under my car warranty, do I have to go to the dealer to be covered for maintenance?
The Magnusen-Moss Act (1975) Title 15-chapter 50-Section 2301-2312 US Federal code- Federal law prohibits new car dealers and manufactures from implying or denying warranty service because routine scheduled maintenance was performed at an independent repair facility. In fact you can do your own routine maintenance and maintain your warranty. All you need to do is keep your receipts proving you purchased the necessary parts to do the maintenance.
Q: How often do I really need to have my oil changed?
Ron's Garage believes you should at a MINIMUM follow the manufactures recommendations for your oil change intervals and specific type of oil. Some manufactures are at or approaching the 10,000 mile interval. Ron thinks this is crazy. These intervals are based on a number of different criteria ie: engine load, engine temp, length of trip etc…. so your individual intervals can vary. Ron's Garage strongly believes these extended intervals are not going to do a vehicle owner any good in the long run. Going that long without lifting the hood is just asking for trouble. I know for a fact that large fleet owners :ie Enterprise, Avis Etc. buy vehicles based solely on the cost of ownership so a 8000 to 10000 mile service interval saves them tons of cash without voiding the warranty, and manufacture love selling vehicles thousands at a time. Ron's Garage Recommendations are based on the age, type, mileage and what the vehicle is used for. On older vehicles with higher mileage we recommend 4-5000 miles. On newer vehicles with lower mileage we recommend 5-6000 miles. On a Fleet vehicle or someones personal work vehicle that does a lot of idling we may recommend 3-4000 miles. Ron's Garage use synthetic blend and full synthetic oil and recommends the same intervals regardless of the type of oil being used because when it dirty it needs to be changed.
Q: How much should I be paying for oil changes?
Oil change prices will vary. Not all cars take the same amount of oil or the same type of oil, which will vary the cost. A $19.95 advertised oil change may sound good but may not be your best value. Cheap oil changes are usually performed using the cheapest oil and filter available and performed by a person in the shop that only knows how to "change oil". So if something else needs repair they don't notice and send you on your way with a potentially unsafe car. A quality oil change is not just an oil change. It is actually a minor maintenance service. Ron's Garage virtually inspects every vehicle that they service. If it's in for an oil change it gets a full electronic courtesy inspection. if it's in for a major repair it gets the same inspection. This is a very comprehensive inspection and depending on the vehicle can take up to 30 minutes to perform. We do this for your protection and piece of mind.
Q: How do I know if my vehicle needs to be maintained with synthetic oil changes?
Any Vehicle can use synthetic oil, But not any vehicle can use conventional oil. If your vehicles is designed to use synthetic oil it will say in your owners manual. Always follow the manufactures recommendation to maintain your warranty. Ron's Garage believes some vehicles should use Synthetic oil even if the manufacture does not call for it. If your car is Turbo Charged or Super Charged we recommend synthetic oil, Synthetic oil will give your engine superior protection in certain-extream circumstances. If you use your car or truck for towing, commercial use, High speeds or any off road-severe conditions, we recommend synthetic oils.
Q: Should I keep maintaining my car or buy a new one?
It can seem at times that maintaining and repairing your old car is getting more expensive than it's worth and nickle and diming you to death. On average it cost aprox. $1200.00 per year to repair and maintain a vehicle that is over 5 years old. If your car has only cosmetic rust and not any structural rust. (Thank you Michigan) the engine does not burn oil, the transmission is shifting normal and you have kept up on the maintenance. Chances are you'll be better off repairing your own car. If you buy a used car please have it inspected by a reputable repair shop before you buy. We have seen many times a customer has replaced their car with a used one that needs more work than the one they just sold. New cars are cool, and don't ever forget you deserve one. But with new cars comes depreciation, interest on financing , the down payment, higher insurance premiums and licensing fees and you still have maintenance and repair costs. Ron's Garage can do their courtesy inspection and help you answer if you should repair or replace your vehicle.
Q: How often should windshield wiper blades be replaced?
We have never had any one complain about their new wipers, only comments like WOW I can see now and I should have replaced them a year ago. A windshield wipers 2 worst enemy's are the sun and the ice scraper. Wipers rarely last a year, if your car is parked inside out of the sun they will last longer. In milder climates without ice and snow they tend to last a little longer. If your wipers chatter as they cross the windshield they need to be replaced. If there are streaks across the glass when its raining they need to be replaced. If there are tears and or missing rubber they are way over due. Most of our customers replace them in the Spring and in the Fall.
Q: How much should a water pump cost?
A water pump is usually a pretty involved job on today's highly advanced vehicles. A lot of vehicles today have electric water pumps with variable rates of flow. When you start your engine cold there is no flow so your engine warms up really fast. These pumps can also pump at max volume while the vehicle is idling. Picture yourself in a traffic jam on a 100 degree day with your a/c running on high and your car is not overheating. If your water pump is driven by the timing belt, you can't just replace the water pump, you must replace the timing belt as well and often times you'll have to replace the belt tensioner and idler pulleys. So a water pump can vary between $150.00 to $1000.00 and in some rare cases even more.
Summary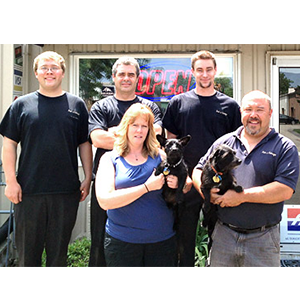 Article Name
FAQs Rons Garage Ann Arbor Auto Repair 48104
Description
Ron's Garage specializes in brake repair, oil change services, engine repair, diagnostic tools and general auto repair service on all makes/models in Ann Arbor. We're your local total auto repair shop in Ann Arbor!
Author
Rons Garage FAQs Ann Arbor Auto Repair 48104
Publisher Name
Rons Garage FAQs Ann Arbor Auto Repair 48104
Publisher Logo